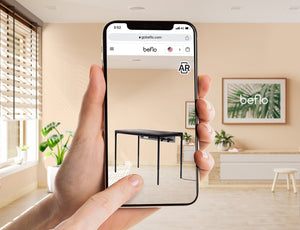 Try our interactive configurator and AR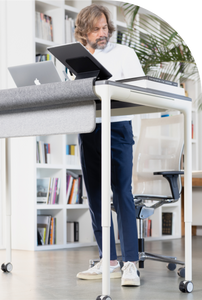 Find The Flow In Everything That You Do
In the past few years, we've all grown accustomed to balancing work and life activities at home. That's why we've developed the Tenon smart desk to serve as the versatile and optimized solution for your lifestyle. Sitting directly at the intersection of comfort and quality, the Tenon is a fully adjustable desk equipped with sit-stand capabilities and innovative solutions for keeping you connected. This modern and ergonomic desk will blend seamlessly with your home and pairs with our range of tech and ambiance accessories. The Tenon desk is designed to accommodate all types of work, freeing up your time to focus on what matters. We're here to help you find your flow and enjoy every moment.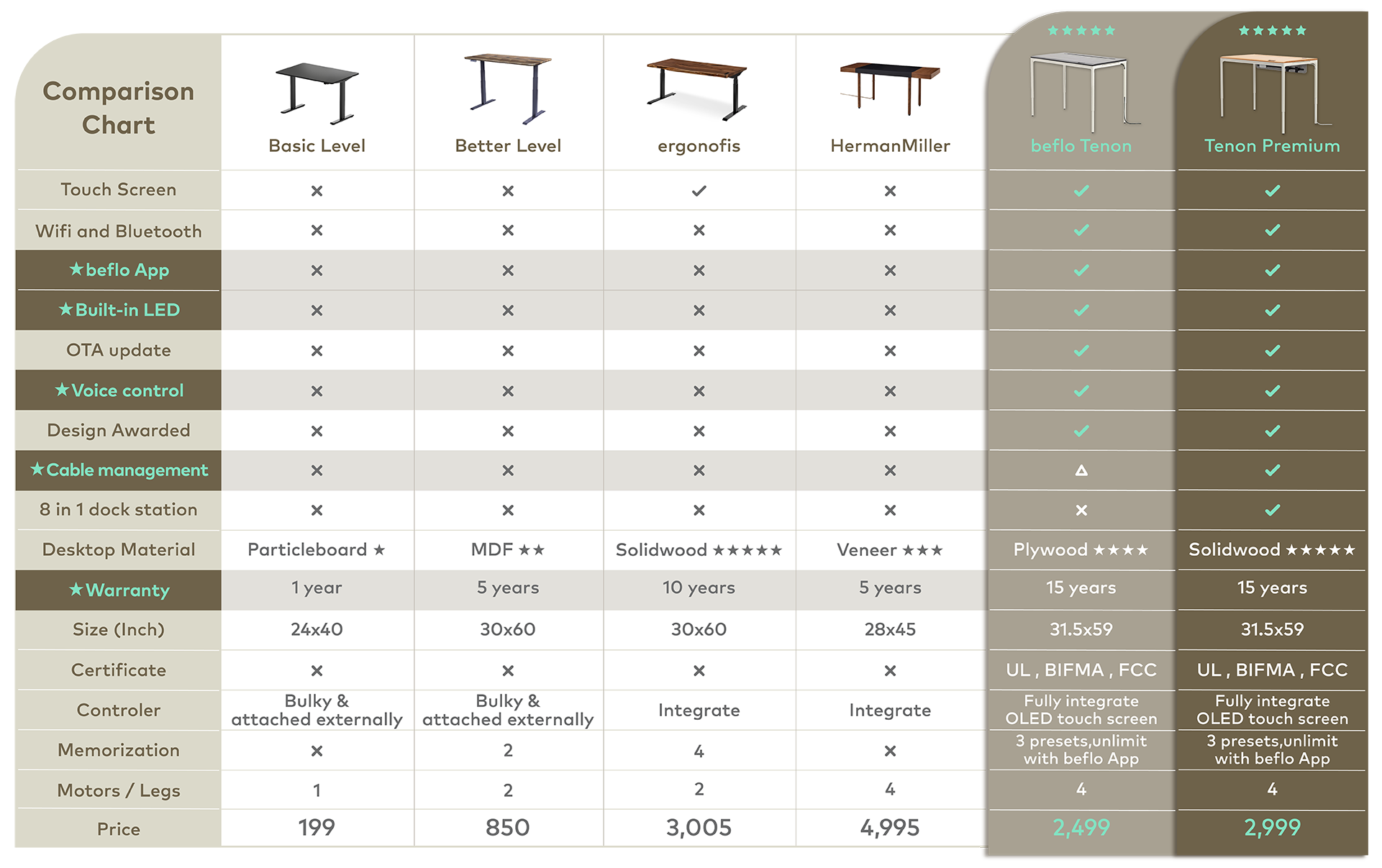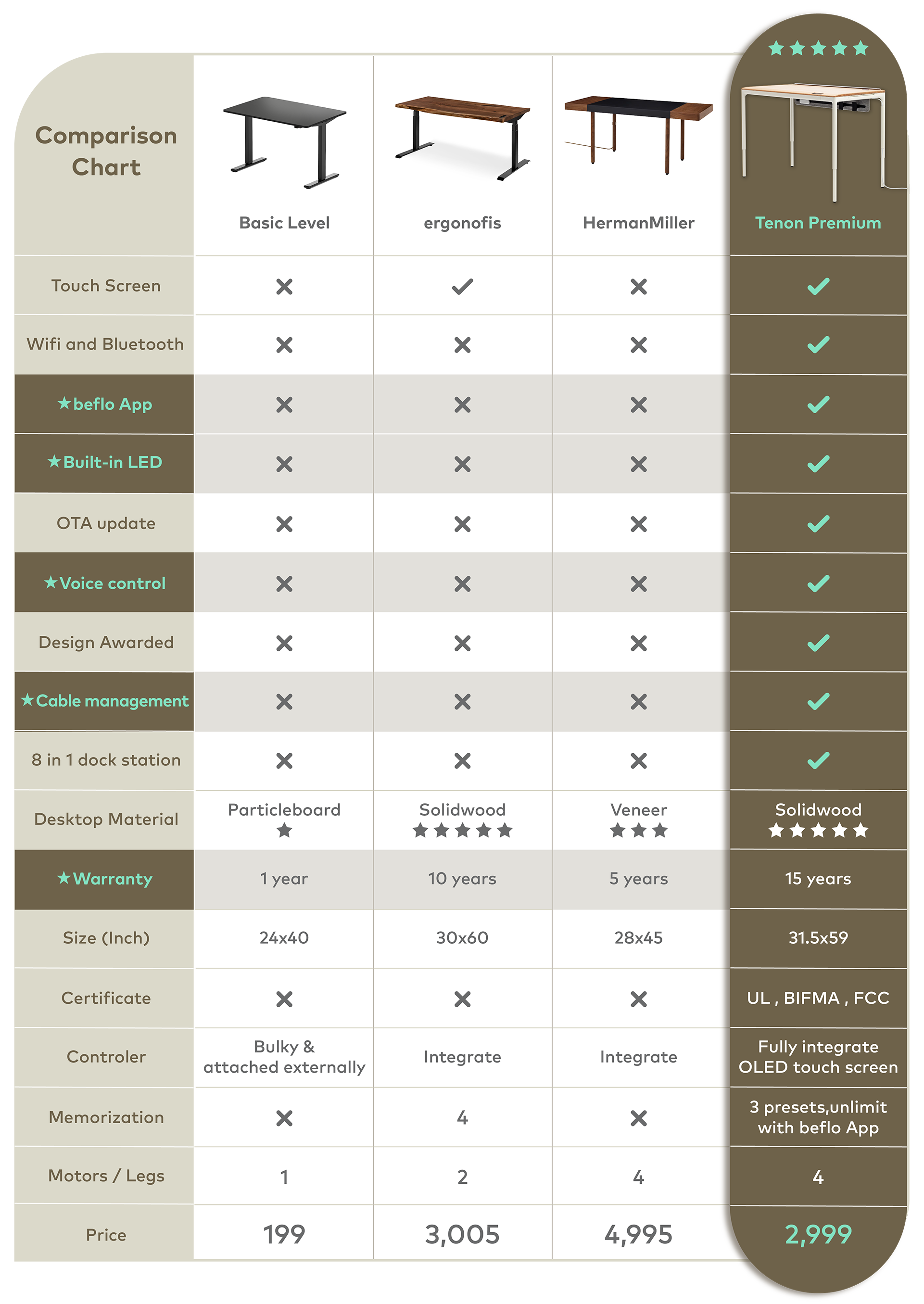 96%
would recommend this product
Michelle

Verified Reviewer

Aesthetic and functional

Love this desk! The standing option being at the touch of a button makes it so easy! All my cords are hidden and tucked away so you don't see a mess. Beflo thought about everything, you can charge all the devices at the same time with everything being hidden underneath. They truly thought about everything with this desk.

This is what i was looking for.

This is the best smart adjustable desk ever.

I was looking for best smart adjustable desk as DJ. Finally i found this an amazing desk.

Tenon smart desk is not only help get things done, it beautiful designs that fits perfectly with my furnitures.

It's even better than I imagined

You can totally tell the designer team of table put a lot of thought into it. There are these cool details I never even thought of using like that

Next on the list, I'm hoping to swap out all the desks in the office.

I do not recommend this product

Desktop paint color and finish spoil the bunch

The desk is called Cashemwre White and in the matching photographs on the website appears to be a light neutral grey. Unfortunately it is a beige which borders on blush, along with fairly warm white legs, looking quite silly with a standard white and light grey mouse. Not the modern, clean aesthetic I bought into. The marketing photo of the person in a clean white shirt would look silly in real life, and that's me now.

Further, the paint finish in the crevice is rough, showing ridges. I'm considering repainting the top of the new desk as a result.

Hardware quality and assembly ease earned a star.

B

beflo

1 month ago

Thank you for sharing your experience with the Cashmere White desk. We truly appreciate your feedback, and we're sorry to hear that the color didn't meet your expectations.

We're continually working to enhance our product descriptions and images to ensure they accurately represent the colors and finishes. Your insights will guide us in making these improvements.

Regarding the rough paint finish, we apologize for any inconvenience caused. We're committed to maintaining a high standard of quality, and your feedback helps us identify areas for enhancement.

If you have any further concerns or if there's anything specific we can do to assist you, please don't hesitate to reach out.

Thank you for choosing our product and being a valued part of our community.

I am continually inspired to be more productive with the Tenon.

I had yet to learn how much my work and day-to-day experience would change using the Tenon desk. I wanted to experience the health benefits of a standing desk. Additionally, I needed something that I could sit at for Zoom meetings.

The adjustable height desk appealed to me because of its minimal appearance. It could fit in almost any room in my house. Setting it up with the instructions, though it was apparent how the parts fit together. The touchscreen interface or app to adjust from sitting to standing was seamless.

I am continually inspired to be more productive with the Tenon. I love being at my desk! The Creek kept my cables hidden, which minimized distractions. My new setup includes my desktop and my laptop on the Slant accessory.

I already love my desk and have started doing most of my work and other tasks at this desk. I am so glad that I don't have to share it!
Reviews Loaded
Reviews Added